Every great idea starts with a vision. Oakwood High School journalism teacher Kelsey Jackson had a vision to improve the educational experience for her students, providing real-world skills in a broadcast studio.
That vision came to life in the form of the William Hewitt Studio, which the Oakwood Schools Foundation dedicated April 18, 2022.  The studio provides a professional broadcast experience for journalism students at OHS and quality content for the viewers of the student-run news site, Ax Media.  Thanks to the new set design and lighting, sound, and visual upgrades, students now have the opportunity to use up-to-date technology and techniques better preparing them for their futures.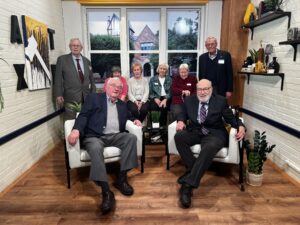 "Even if they don't stay in the journalism field, solid and concise writing, being able to shoot quality video and take solid pictures, and record audio that's quality and gets your message across are tools and skills students can take into their post-high school experiences to be able to apply to any careers at this point," Jackson said.
The Oakwood Schools Foundation led the fundraising effort in partnership with the Oakwood Alumni Association to help make the studio a reality for students. Supporting the effort to build and outfit the broadcast studio was an obvious choice for Dale Hatfield, a proud graduate of the OHS Class of 1956, who kicked off fundraising with a generous gift to name the studio in honor of his lifelong friend and former classmate, Bill Hewitt. 
At the dedication, Hatfield reminisced about when he was in the fifth grade and was the new kid in Oakwood.  Hewitt took him under his wing and showed him the ropes, which resulted in their lifelong friendship.  Hatfield recalled the exact moment, when and where the two first met, and how that moment of kindness has stuck with him.
Gathering the support of Hewitt's family members and friends, and with the support of Dave Crowl (OHS '72), the Oakwood Junior High and High School PTO and the Oakwood Fine Arts Boosters, the funds needed to build the studio were quickly raised. Those same friends and family members gathered in Jackson's classroom at OHS for the dedication, along with Oakwood Junior High Principal Tim Badenhop, OHS Principal Dr. Paul Waller, Jackson and current OHS journalism students. 
While speaking to those gathered, Hewitt said he knew the stories from his classmates wanting to come back and give back to the schools was special.  He hopes it will inspire current and future generations of Oakwood students to do the same. 
The project and dedication would not have happened without the collaborative efforts between Oakwood Schools, the Oakwood Alumni Association and the Oakwood Schools Foundation. 
Ax Media students will produce the first show from the William Hewitt Studio in May.  To check it out, visit ohsaxmedia.org.