More about our Scholarships
Each spring, The Oakwood Schools Foundation awards more than $20,000 in scholarships to graduating seniors. With increasing costs for higher education, The Oakwood Schools Foundation's scholarships mean more now than ever to these recipients.
Thanks to the generosity of the individuals and families who established these scholarships and to the donors who contribute toward these funds each year, Oakwood's college-bound students appreciate this support for their continuing education.
If you have questions or would like information on how to set up a scholarship, please contact the Foundation at: [email protected] or 937-297-5332.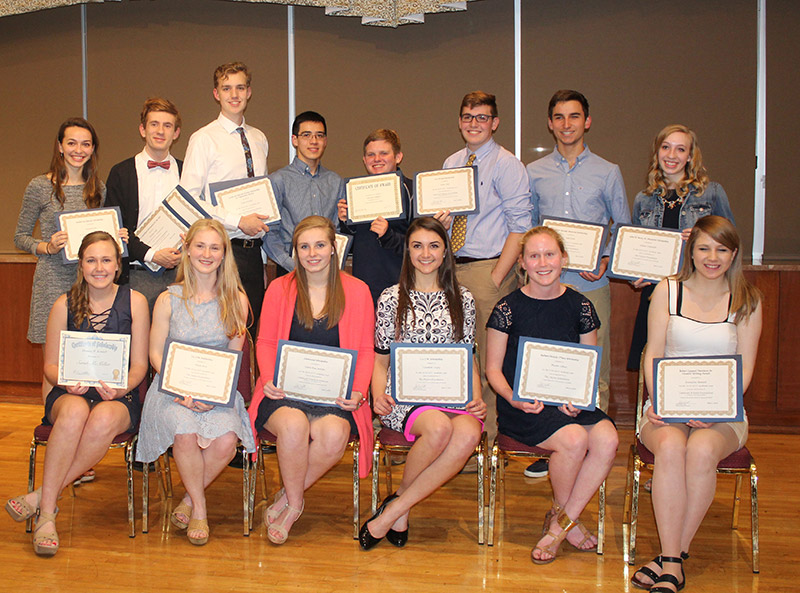 CLASS OF 2023 SCHOLARSHIPS *CLOSED*
2023 Application process is closed.  Stay tuned for updates on the 2024 cycle.
If you have questions about the process, please email [email protected] or call Michelle Brown at 937-225-9965 or Jessica Schreiber at 937-225-9953. The Dayton Foundation office number is 937-222-0410. Information can also be found on Instagram @daytonfoundation_scholarships
Janet Bourne Memorial Scholarship. Awards involvement in community service and leadership skills.

2023 Recipient: Julian Vagedes

David R. Collins, OHS Class of 1950, Scholarship. Awards excellence and/or outstanding achievement in English, creative writing, or speech and drama skills.

2023 Recipient: Sofia Spowart

Comeback Award. Honors a senior who shows strength, courage, character, and integrity in overcoming adversity in his/her life.

2023 Recipient: Allyssa Nelson-Mays

Robert L. Davidson Scholarship. Recognizes present and potential ability as a creative writer.

2023 Recipient: Isabella Medrano

Dr. Robert W. Gaines, Jr., OHS '60, Young Men's Golf Award. Recognizes a senior golfer who demonstrates good sportsmanship, consideration for others, academic achievement, leadership and community service.

2023 Recipient: Parker Finney
Honorable Elizabeth Simms Gutmann Public Service Scholarship. Honors a student who has been involved in community service and plans to pursue a degree in a public service field.

2023 Recipient: Josh Rosenberg

Scott Harman Memorial Scholarship. Honors a student who lives life with enthusiasm and has a positive impact on others.

2023 Recipient: Riley Cahill

Kevin Lauterbach Memorial Scholarship. Honors a student who plans to be a lifetime learner/practitioner in the field of fine art.

2023 Recipient: Tabitha Kisker

Oakwood Centennial Scholarship. Honors a student who distinguishes herself/himself during high school years. Dependents of OSF Board members are ineligible.

2023 Recipients: Emery Gowdy & Ian Ganow

Rader-Drummer Family Scholarship. Recognizes an outstanding and motivated student who intends to attend an accredited non-profit college or university and pursue a degree in architecture or the liberal arts such as English, theater, art, communications, foreign languages, history, music, or philosophy. Preference will be given to English or architecture majors.
Howard Sales Memorial Scholarship. Recognizes Leadership, Integrity, and Character for a high school athlete planning to play a sport in college.

2023 Recipients: Emma Neff & Ethan Stone
Leslie Ann Simms Nagel Creative Writing Scholarship. Honors a student who plants to be a lifetime learning and practitioner in the fine arts field.

2022 Recipient:  Hannah Hutchinson

Randy Neff Memorial Scholarship. Honors a student who inspires others and plans to major in education or math, with preference given to students aspiring to teach math and coach a sport.

2023 Recipient: Josh Rosenberg

Thomas Neff Memorial Scholarship. Recognizes a student who is a team player and displays a strong work ethic, solid values, and maintains good grades through hard work and dedication.

2023 Recipient: Charlie Armitage

Barbara Nichols O'Hara Scholarship. Recognizes an outstanding female athlete, good citizen and student.

2023 Recipients: Bella Butler

Susan Herman GLOW Scholarship. Recognizes Grade point, Leadership, Outstanding character, Work ethic for a female planning to pursue a degree in a technical field (i.e. engineering) or the sciences.

2023 Recipients: Tabitha Kisker
Pam and Chip Seidl Scholarship. Benefits an outstanding wrestler who meets both academic and leadership qualifications.

2023 Recipient: Carson Baumgardner

Loran and Alberta Warner Scholarship. Awards a student who shows dedication to community service activities and has made an impact through his/her involvement.

2023 Recipient: Matthew Rohan

Helen and Louis Wozar Scholarship. Recognizes a student who demonstrates an outstanding work ethic, self initiative and entrepreneurial spirit.

2023 Recipient: Alex Zhang

Guy W. Richardson MVP Senior Boys Tennis Scholarship.  Recognizes an outstanding senior tennis player who demonstrates good sportsmanship, leadership and academic achievement.

2023 Recipient: Max McCloskey

Guy W. Richardson MVP Senior Girls Tennis Scholarship.  Recognizes an outstanding senior tennis player who demonstrates good sportsmanship, leadership and academic achievement.

2023 Recipient: Claudia Schnell