An event is set next week for the new $8.8 million performing arts center at Oakwood Junior and Senior High School, a section of which will be named after a pair of alumni.
A groundbreaking will be held Dec. 21 for the privately funded Rick and Jane Schwartz Performing Arts Wing, the Oakwood Schools Foundation announced Monday.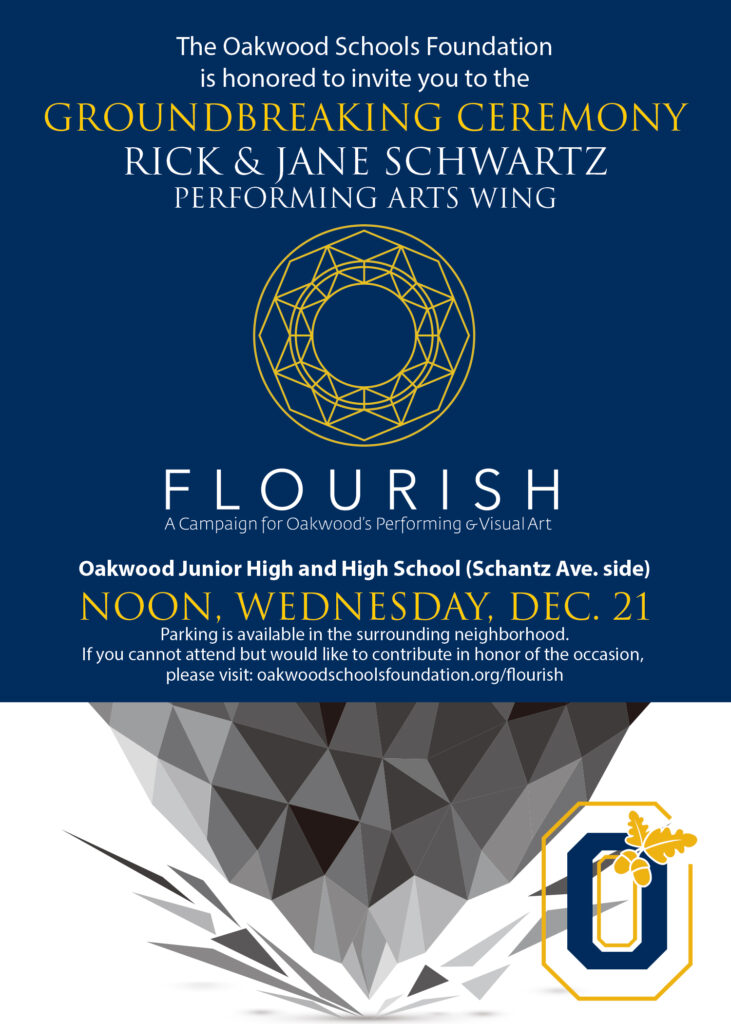 The couple graduated from OHS in 1967 and helped launch the Flourish campaign for the arts wing. They made the lead gift in early 2020, the largest ever made to the OSF, the organization said.
"Arts in education fosters bright, creative and socially engaged students," Rick Schwartz, the former Winsupply CEO, said in the announcement. "These students will grow up to be our next generations of leaders, parents, teachers, artists and engineers."
About $6.4 million raised for the project for the arts facilities, OSF Executive Director Brandy McFall said.
"Without their generosity from day one and their continued support along the way, we would not be where we are today," according to McFall.
The project will renovate the 114-year-old Far Hills Avenue building's art area for "a new visual arts center that includes new classrooms, and an open art gallery to showcase and celebrate student, alumni and community art," foundation records state.
The plan also calls for updating the auditorium with acoustical and video enhancements, theatrical lighting and equipment upgrades, officials have said.
Fundraising for the three-phased effort is expected to continue throughout 2023 and will lead to further advancements for arts facilities in the schools, according to the foundation. All three-phases are scheduled to be implemented into the 2024-2025 school year.
Visual arts, band, choir, theater, and orchestra are all top extracurriculars at the junior high and high school, officials have said.
"Because of their popularity, the need for new and renewed art spaces is considerable and undeniable," according to the foundation. "The plan will directly address these needs by expanding and creating space for the arts as well as enhancing current equipment and space."
~Nick Blizzard
Article Link: Dayton Daily News